As I mentioned before, I can't stop baking lately. Part of the problem is that my grandparents both worked in a bakery and I learned a lot from them, so it's easy to whip up something yummy without even cracking a cookbook. The other part is the lure of fresh berries and fruit this time of year -- the perfect topper or addition to baked treats in my humble opinion.
On that note, here's the 'recipe' for my absolute most favourite strawberry sauce. The measurements are approximate, because I don't usually measure them. It's a really simple recipe, and I just tweak it according to taste. One of the older ladies at my grandmother's church used to make strawberry sauce for the youth group to serve as an alternative to maple syrup during our annual Shrove Tuesday pancake supper. I only tasted it once back then, and never forgot.
Strawberry Sauce
2-3 cups of fresh or frozen strawberries
1/4 cup of strawberry jam (I use homemade freezer jam, which is quite sweet)
1 tbsp pure vanilla extract
2 tsp cinnamon
a little water to loosen it up if you find it too thick
Puree really well in the blender and you're done! This sauce is amazing over ice cream, pancakes, angel food cake (pictured with sauce and whipped cream above), or even pound cake (like the one I have on my counter right now!).
I can't remember where I first saw the pound cake recipe below, but it's a fairly common recipe if you search online. What makes this version slightly different is the addition of almond extract. Makes it yummier. The woman who posted the recipe that I saw noted her southern grandmother used to make it with almond extract. Far be it from me to argue with that kind of experience.
Oh-So-Delish Cream Cheese Pound Cake
1 1/2 cups butter
1 (8 ounce) package cream cheese
3 cups white sugar
1 tablespoon vanilla extract
1 teaspoon almond extract
6 eggs
3 cups cake flour
Preheat oven to 325 degrees F (165 degrees C). Grease one 10 inch tube pan.
Cream together the butter, cream cheese, and sugar until light. Stir in the vanilla and the almond extracts. Add the flour and the eggs alternately, beginning and ending with the flour. Pour batter into the prepared pan.
Bake for 1 hour and 15 minutes or until a toothpick inserted in the center comes out clean. My oven is convection, so it usually takes less time. This pound cake is dense and almost creamy tasting. In theory, it keeps well, but never gets a chance around our house. Go ahead and try it!
Okay, enough of the calorie-laden goodness! I was bouncing around some other blogs this morning and came across this neat Christmas in July linky party. I love love love giving and receiving homemade gifts, so linked up a couple projects and surfed for new ideas. Check it out!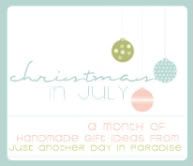 I have more altering to do for others for the next few nights, so not sure when I'll get a chance to work on something fun again. Maybe the weekend. Or sooner if I'm able to convince my oldest son that colouring quietly while sitting on the floor of mommy's craft room is a fun thing to do while his little brother naps. I believe in miracles (=