With so many great sewing blogs available online, featuring inspired fashion and home dec projects, I'm almost embarrassed to post my simple little projects. That said, this blog is to help me track my progress as I try to improve my sewing skills. You have to start somewhere, right?
So with that in mind, my current project is that icon of practicality, the common kitchen apron. The pattern is Simplicity 3670 (view A, on the right), which I like because it's sort of old fashioned and reminds me of childhood days spent cooking and baking in my grama's kitchen. I may make the other apron, too, but even
I
don't need a pattern for something that simple.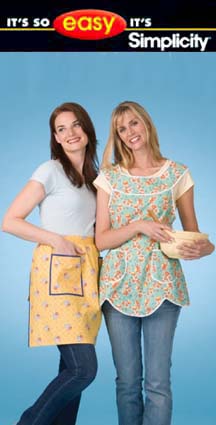 I've been reading so much about the Burda World of Fashion (BWOF) magazine that so many sewing enthusiasts seem to enjoy. My skills are probably too basic for most of the fashions (okay, I also want to lose a few pounds), but I don't see any harm in getting a sample issue just to see for myself what all the fuss is about. The subscriptions are pricey for a magazine, but so much when you think of how many patterns are included.