I've been wanting to make my boys bean bag chairs for a while, but the idea of so many beans somehow getting loose in my house has been holding me back. So when I saw these cute Pottery Barn Kids-inspired floor cushions at
Living with Punks
, I knew they were the perfect compromise...sturdy and comfy, but no beans (=
Mine are a little taller and have a different kind of handle than the inspiration version (better for swinging in the inevitable cushion wars!), and I'm really happy with how they turned out. The airplane-printed denim and piping were from my stash, so my only expense was about $15 for poly stuffing. It took an entire huge bag to fill the two pillow seats, and they probably could have used a bit more, but I wasn't going to buy another bag.
These are going to be added to the rapidly growing stash of Christmas gifts for the boys (books, growth chart, monster wallets, pajamas, dino mats, mittens and hats) . They get spoiled (not to mention over-exposed to the commercialism of Christmas) every year, so I was trying to stick to, "
Something to wear, something to read, something they want, something they need
", as a gift planning guide. So far, except for some books and two videos, all of their gifts are homemade, so I don't feel too badly about the little extras.
Hubby and I are in the midst of what we're calling a mini stay-cation. We've put the kids in daycare for three days (my first time away from both of them!) and have been taking bubble baths, reading, crafting, blogging and just relaxing. No housework, bare essentials cooking, no stress. I pick up the kids for dinner and bedtime, so we all have some family time, too. We can't afford a real vacation right now (plus kids are at a difficult age for travel), so this is our budget alternative and it's been great. This afternoon will be dedicated to a bit more sewing and a little Christmas decoration making, so I should have more to post this week!
Linked to: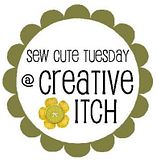 Sew Can Do: Craftastic Monday