Most of the sewing I've done lately has been helping friends make little gifts for their kids for Christmas. A bunch of us have dubbed ourselves the Rudolph Club, and we are determined to give as many hand made gifts as we can this year. Since I have space in my craft room, a lot of the sewing activities have been happening here.
I'm still working on the child's flower girl dress that I started earlier. I need to do a fitting, but the little girl is out of town on vacation with her family, so that project is in a holding pattern.
I also started a dress for myself, using Simplicity 2660.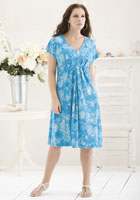 I'm using an odd pink print that I have no other purpose for, and although I had reservations, I was starting to like it. Then my husband came in and made a comment about the fabric looking like it came off of a '60's sofa from a swingers' club. Not loving it as much anymore. The other issue with the fabric is that I had to cut it on the cross grain, because the pattern is quite awful oriented along the grain. I've never done that before, so will have to see how it turns out.
In other news, I played around with my serger, and finally tried a rolled hem. I love it! So easy and neat, and not at all difficult. I can't imagine why I waited so long. I guess I got stuck in the rut of it works as it is, so don't fiddle with it. In any case, I'm super excited that I did. I'm going to use the rolled hem on the bottom of the skirt overlay for the flower girl dress. That will be MUCH easier than what I had planned to do.